Have you been searching for a Union County Sewer Video Inspection professional? You need to have your sewer pipe inspection done by a trained technician. As a homeowner or business owner you are in charge making sure the plumbing system in the property is in working order. If the plumbing system is not working properly, nothing is working properly. It is very important to know the condition of the pipes in the property by getting regular inspections and maintenance to prevent problems before it starts. If you feel like you may be having sewer lines issues a professional technician would use a commercial video camera to look inside the pipes and see what is going on. These cameras inspect for leaks, obstructions, blockages and any other issues that may be causing backups or flooding. Here are some steps that are taken when you have a professional come to inspect the sewer lines: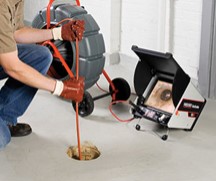 Union County Sewer Video Inspection | Entry:
A trained technician will insert a video camera into the pipeline and inspect the line. Most technicians will use a cleanout port entrance to access the pipe. Some properties that do not have this type of access, will need to have one made so that the sewer camera can be put in to see the inside of the pipe. The technician will poke a small hole to get to the pipe and then a small hole in the pipe to insert the camera and see what is inside. Once the small sewer video camera is inserted into the pipe, it can send a live feed to a monitor so that the technician can view inside the pipe.
Union County Sewer Video Inspection:
While the technician is watching and viewing inside and down the pipe they are able to see whether the pipes are broken, have any obstruction or have slipped out of place. As the technician is inside he is able to record so that it can be later reviewed further for better determination of the sewer pipe issues you may be having.
Union County Sewer Video Inspection | Assessment:
Once the camera has seen the entire length of the pipe, the video can then be reviewed and a proposal can be made about how to go further and fix the issue. A sewer video camera can always tell of any type of issues in the pipes, including corrosion, cracks, broken pipes, pipe slippages, blockages, obstructions, drain lines, and tree root infiltrations. Some commercial establishments that involve the planning or handling of food have other sewer issues. Sewer pipes can get clogged due to the buildup of grease. In the meantime, blockages can be caused by a lack of maintenance, it does occur more frequently in food service places because of the use of grease and other food items that go down the drain and cause blockages. If you have been advised that the sewer pipes are clogged due to these types of issues, you may need pressure washing the sewer lines which can eliminate the problem and remove blockages which are caused be grease, cooking waste, and food materials. This type of service should be performed annually to prevent and keep your business free of any risk of plumbing backup or having issues with the health department in the future.
Union County Sewer Video Inspection | Sewer Pipe Resolutions:
With the assistance of a Union County Sewer Video Inspection by a plumbing professional from Budget Rooter Plumbing Plus, you can know immediately what is wrong with the sewer pipes and make a smart decision on how to proceed to fix the issue and prevent it from happening again. Once the video is reviewed and a solution has been proposed they will likely need to repair or replace pipes to stop any further sewer issues. If your property is having sewer problems, contact Budget Rooter Plumbing Plus today at 908-822-2004 for a sewer video inspection. We will be able to quickly evaluate your sewer lines and determine the best solution while working with you to get your pipes flowing freely all year long.
Central NJ Sewer Drain Cleaning